Human beings are part of nature, rather than coming to visit nature. When we care for nature we care for ourselves, and when we care for ourselves we are caring for nature.
The intention of our mindfulness in nature programs is to offer experiences to develop and deepen a relationship with the natural world that enriches human and planetary well-being.
Imagine Well Being's mindful meditation in nature practice encourages present-moment awareness through slowing down and experiencing the natural world with wonder and a beginner's mind. To see our Mindful Nature offerings, go to Imagine Well Being's Meetup page or to "Let's Take a Hike from Suburbia."
We practice using all of our senses to experience nature. Research continues to reveal that allowing the mind and body to engage, rest and soak in the abundant color, sound, smell and taste of nature has an impact on our well-being in every way.
Nature-based meditation invites a fresh world-view, recognizing our complete interconnection with the natural world. As Earth organisms, our very habits of eating, drinking, sleeping, and moving about can be done in a mindful way, acknowledging and honoring this interconnection with the natural world.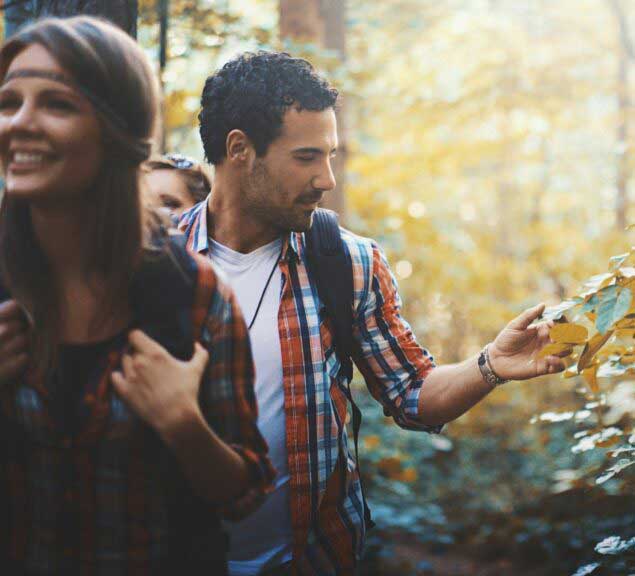 Mindful Seasonal Wisdom
Imagine Well Being offers opportunities to integrate the passage of seasons with unique Solstice and Equinox programming.  These include the science of seasonal change, poetry, music and a meditative opportunity to acknowledge the transformational changes that are taking place in nature.  As part of nature, our bodies also are attuned to seasonal changes. These programs offer individuals the opportunity and time to contemplate the invitation in each season and how it might invite inner awareness and guidance.